07-14-2012
Watch Video
Play Video
Chinese explorer Zheng He and his fleet sailed on diplomatic and business missions in the early 15th century, reaching as far as northeast Africa. Now more than 600 years later, a replica of his flagship, the so-called "Treasure Ship", is being built in Nanjing, capital of east China's Jiangsu Province.
With the last nail, construction of the main structure of the replica of Zheng He's Treasure Ship is completed. The wooden replica is more or less the size and shape of a Boeing 737. And it's designed to have 6 masts.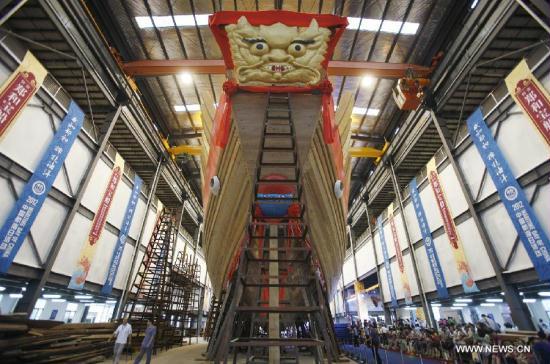 Photo taken on July 12, 2012 shows the interior of the replica of "Zheng He Treasure Ship"
under construction in Nanjing, capital of east China's Jiangsu Province. The replica of
"Zheng He Treasure Ship," which is designed to be six-masted, 71.1 meters long and 14
meters wide with a displacement of 1,800 tonnes, is scheduled to complete installation in
2012 and start debut sailing in 2014. Treasure Ships are used by the commander of the fleet
during the voyages of Zheng He, who made seven voyages to more than 30 countries and
regions in Asia and Africa from 1405 to 1433 in the Ming Dynasty (1368-1644). (Xinhua/Wan
Xiang)
For maximum authenticity, all the workers are from Fujian Province, where the original fleet was built. And they even use the old-school techniques.
Shipwright said, "The state-of-the-art ship-building technology 600 years ago was adopted in building of all boats in Zheng He's fleet. And some of the technology can still work today while we build the replica. For example, the mixture of China wood oil and lime powder was considered the best fillers of gaps, and we're still using it."
In 1405, Zheng He's first voyage set off. Over the next 28 years, as a special envoy of Ming Dynasty Emperor, he completed seven cross-Indian Ocean voyages with as many as 200 ships and 28,000 sailors. Starting from southern China, his fleet sailed to more than 30 islands and coastal nations in Southeast Asia, the Middle East and Africa.
The largest of Zheng He's fleet were 125 meters long and 51 meters wide. They served as his flagship as well as carriers for treasures, hence their name.
The replica is scheduled to complete installation at the end of this year and start sailing in 2014.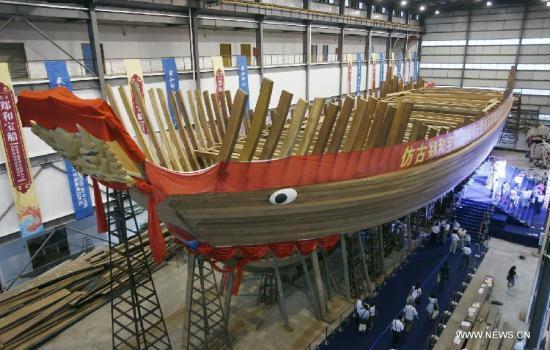 Photo taken on July 12, 2012 shows the interior of the replica of "Zheng He Treasure Ship"
under construction in Nanjing, capital of east China's Jiangsu Province. The replica of
"Zheng He Treasure Ship," which is designed to be six-masted, 71.1 meters long and 14
meters wide with a displacement of 1,800 tonnes, is scheduled to complete installation in
2012 and start debut sailing in 2014. Treasure Ships are used by the commander of the fleet
during the voyages of Zheng He, who made seven voyages to more than 30 countries and
regions in Asia and Africa from 1405 to 1433 in the Ming Dynasty (1368-1644). (Xinhua/Wan
Xiang)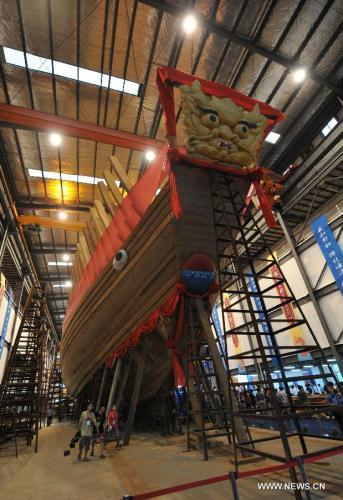 Photo taken on July 12, 2012 shows the interior of the
replica of "Zheng He Treasure Ship" under construction in
Nanjing, capital of east China's Jiangsu Province. The
replica of "Zheng He Treasure Ship," which is designed to
be six-masted, 71.1 meters long and 14 meters wide with
a displacement of 1,800 tonnes, is scheduled to complete
installation in 2012 and start debut sailing in 2014.
Treasure Ships are used by the commander of the fleet
during the voyages of Zheng He, who made seven voyages
to more than 30 countries and regions in Asia and Africa
from 1405 to 1433 in the Ming Dynasty (1368-1644).
(Xinhua/Sun Can)
Related stories
Editor:Zhang Dan |Source: CNTV.CN