Xinhua 18 February 2017
More than 200 items linked with Genghis Khan and his descendants went on exhibition at the Dutch National Military Museum Friday to display the history of the Mongol Empire that ruled most of Eurasia throughout the 13th and 14th centuries and the multiple facets of its mysterious founder.
Illustrating his life from his birth in 1162 into the Borjigid clan of the Mongol tribe as a bizarre baby "born with a clot of blood the size of a knucklebone clutched in his tiny fist" [which symbolizes courage and power in Mongol legends], to his ascension to Great Khan in 1206 and his campaigns which expanded the Mongol Empire from China to the Caspian Sea, the exhibition shows that during his rule Genghis exhibited impressive vision and strategic brilliance.
With horse gears, armours, weapons, seals, imperial decrees, utensils, clothes and jewelry on display, the exhibition also stages that one of the best-known figures in world history had ground-breaking developments in military equipment, strategies and tactics, endorsed tolerant religious and social policies, established a legal code and sparked a new era of exchange and interconnection between East Asia and Europe.
"Genghis Khan and his successors have profoundly influenced the history of the world with their military inventions and strategies, but also through their culture and the cultural and religious exchange that took place via the Silk Route," Hedwig Saam, director of the Dutch National Military Museum, told the press.
The museum, built at a former air base in the central region of the Low Lands, combines the collections of the former Military Aviation Museum in Soesterberg and Army Museum in Delft.
"We want to give the European audience an insight into Genghis Khan in a way that hasn't been done before," Tim Pethick, designer of the exhibition, told Xinhua.
"The concept of conquest is one aspect of the story of Genghis, but we want to talk about Khans' encouragement to literacy, and his keenness to build a multi-faiths society. We want to show that when approaching a town for siege, the Mongols actually were much happier to take that town peacefully rather than aggressively, because they wanted to trade with those people and learn from them," he said.
Yong Ding, researcher of China's Inner Mongolia Museum where all the items on display come from, was glad the exhibition immerses visitors in a gripping way. "Inner Mongolia is a mysterious place with a long history, and via this exhibition we hope to bring a better understanding about the culture and history of Inner Mongolia to the Dutch audience," he told Xinhua.
For him, the eye-catching golden saddle decorated with Mongol style pattern is one of top pieces in this exhibition. "It was found in a tomb whose owner is believed to be a Mongol noble living in the Yuan dynasty established by Genghis Khan's grandson, Kublai Khan. Its sophisticated relief sculptures tell us the cultural and artistic attainments of the Mongols."
A bronze seal used by Genghis Khan's third daughter is also among Ding's most beloved archaeological discoveries. "It is one of the rare preserved artifacts that relates directly to Genghis Khan's family. The Chinese, Mongol and Uyghur characters carved on it tell us that when Genghis Khan went out to conquer the world he trusted his daughter to rule at home. Actually his daughter had the power to reign over not just the Mongols but also the vast region till the Yellow River," he explained.
Since the 1990s, the Inner Mongolia Museum has organized many exhibitions focused on Genghis Khan in cooperation with colleagues in America, Europe and Asia, according to Ding.
Djengis Khan is de grootste veroveraar ooit
Djengis Khan
veroverde het grootste wereldrijk ooit, maar is in Europa nauwelijks bekend. Het Nationaal Militair Museum wijdt nu een tentoonstelling aan hem. NRC bezocht het hart van Djengis Khan's rijk in Binnen-Mongolië.
Bij een temperatuur van twintig graden onder nul lopen bij het Mausoleum van Djengis Khan tegen sluitingstijd groepjes Mongolen naar buiten. Al of niet in traditioneel kostuum willen ze graag op de foto met de Nederlandse bezoekers. Giechelend bij zonsondergang, op gewijde grond.
Binnen liggen in acht gers, de traditionele Mongoolse tenten, kisten met relikwieën van Djengis Khan (1162-1227), zijn vrouwen, een van zijn zonen en diens vrouwen. Zoals een plukje wit kamelenhaar, waarin Djengis Khan zijn laatste adem uitgeblazen zou hebben. Of een zilveren doos met de favoriete schoenen van zijn vrouw.
Niet hun lichamen. Het graf van deze legendarische Mongoolse krijgsheer is nooit gevonden. Iedereen die hem van de plek van overlijden naar zijn geheime begraafplaats heeft gebracht, is volgens de mythe direct daarna gedood. Eeuwenlang hebben deze relikwieën rondgezworven langs de verschillende Mongoolse nomadische stammen, bewaakt door strijders van de Darhatstam. Nog steeds houdt een imposante Darhatbewaker in de gaten of er geen foto's worden gemaakt.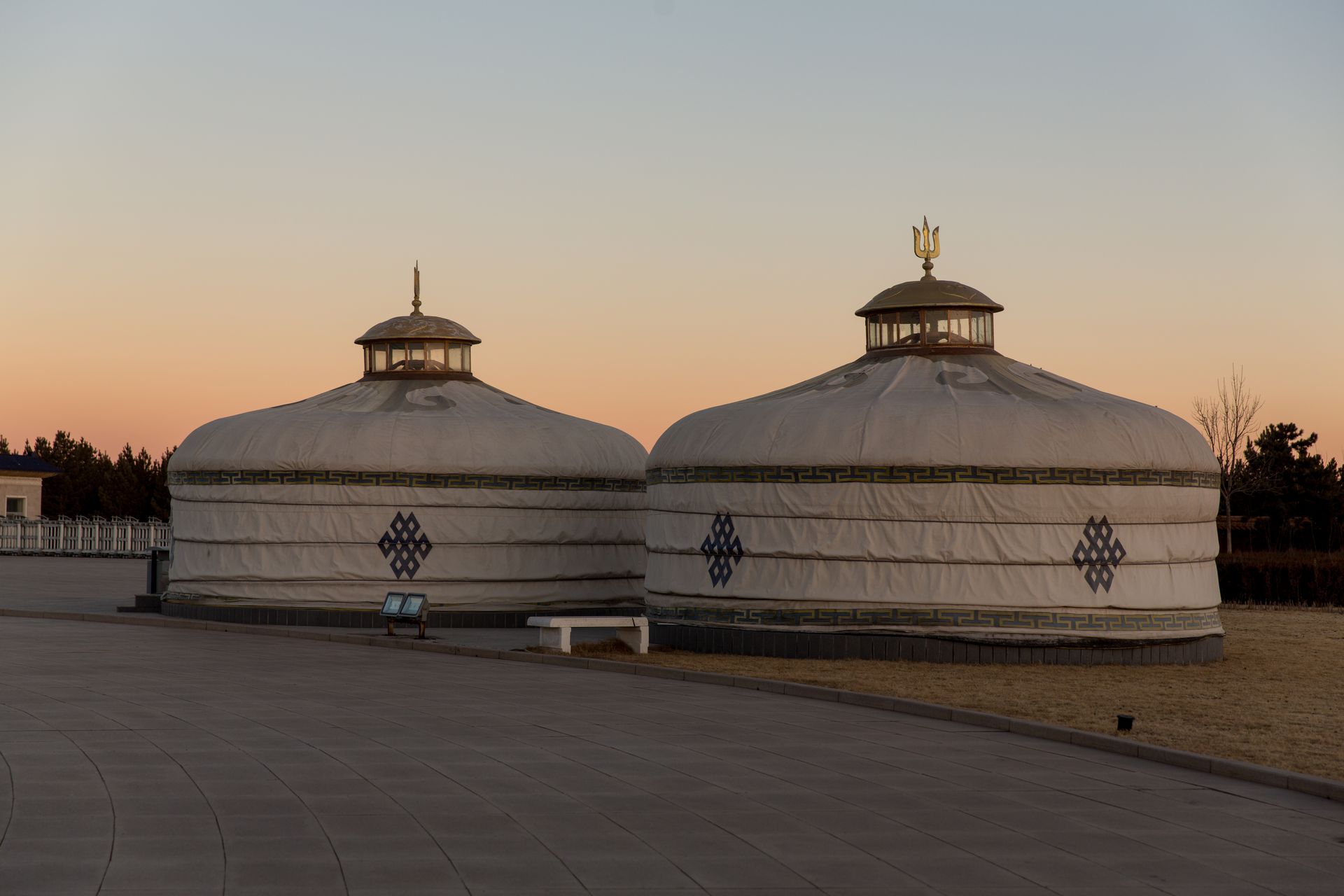 Het Nationaal Militair Museum in Soesterberg heeft drie journalisten en een fotografe meegenomen naar deze afgelegen plek op de Mongoolse steppe, honderdvijftig kilometer van de spookstad Ordos die de Chinezen de afgelopen vijftien jaar in de Mongoolse woestijn opbouwden. Vrijdag opent het museum de tentoonstelling Genghis Khan, wereldveroveraar te paard. Hier besef je welke betekenis Djengis Khan heeft in deze contreien.
Grootste imperium ooit
Zo komen op 12 maart bij dit mausoleum elk jaar zo'n 150.000 Mongolen bijeen om Djengis Khan in ceremonies te eren. Het mag weer van het Chinese communistische regime. Dit mausoleum werd gebouwd in 1955 en weer vernield in 1968 tijdens de Culturele Revolutie. In 2005 werd het opnieuw opgebouwd.
Voor de Mongolen is hij de bouwer van een natie. Djengis Khan slaagde er als eerste in alle nomadenstammen op de Mongoolse steppe te verenigen en daarna tot wereldheersers te maken. In dertig jaar tijd legde hij de basis voor het grootste imperium dat er op de wereld is geweest, twee keer zo groot als het Romeinse Rijk en vier keer de omvang van de veroveringen van Alexander de Grote.
Dit is dan ook niet de enige gedenkplaats voor Djengis Khan. Het oude Mongolië is opgedeeld. Behalve in deze autonome regio China wordt hij ook vereerd in de noordelijker gelegen Republiek Mongolië, waar even buiten de hoofdstad Ulan Bator ook een mausoleum staat.
In Nederland is Djengis Khan een weinig besproken figuur uit de wereldgeschiedenis. We kennen hem vaak louter in clichébeelden van oprukkende hordes van barbaren die met bloedige oorlogvoering tot de grenzen van Europa kwamen. Een enkeling herinnert zich misschien nog de curieuze Duitse Eurovisiesongfestivalinzending in 1979 waarin zijn strijdlust en viriliteit werden bezongen met:
Er zeugte sieben Kinder in einer Nacht
Und über seine Feinde hat er nur gelacht
Denn seiner Kraft konnt keiner widerstehen (Huu, Haa)
Juist aan deze oosterse krijgsheer wijdt het Nationaal Militair Museum de eerste grote tentoonstelling sinds de opening in 2014. Waarom? Toeval voornamelijk. "Djengis Khan stond op een lijst van onderwerpen voor tentoonstellingen die goed in ons museum zouden passen. We willen zeker aandacht besteden aan grote krijgsheren uit de wereldgeschiedenis", vertelt directeur Hedwig Saam. "Toen meldde de Britse tentoonstellingsmaker Tim Pethick zich per e-mail met een concept voor Djengis Khan. We hoefden niet lang na te denken. Djengis Khan was een briljant militair strateeg en zijn troepen waren belangrijk in het brengen van innovatieve wapens, die weer van invloed zijn geweest op de ontwikkeling van Europese krijgsmachten zoals fluitpijlen, vuurwapens, katapulten of de grote handboog. Daar konden we met onze eigen collectie bij aansluiten. En, interessant in het licht van de huidige internationale ontwikkelingen: hij zorgde voor kruisbestuivingen tussen Oost en West door handel, uitwisseling van kennis en het toestaan van religieuze vrijheden."
In herkomstgeschiedenissen zijn de Chinezen nog niet zo sterk
Gouden zadel
Tien jaar geleden bezocht Tim Pethick voor het eerst het Binnen Mongolië Museum in Hohot, de hoofdstad van de autonome regio Binnen-Mongolië in China. Hij werkte als tentoonstellingsdesigner voor een Brits bedrijf. Het museum, nog gevestigd in een klassiek gebouw uit de jaren vijftig van de vorige eeuw, zou dichtgaan. Zoals op veel plekken in China werd ook in Hohot een groot, nieuw museum gebouwd. In de depotkelders lieten zijn gastheren hun verzameling van Djengis Khan-objecten zien. Daarbij een troon waarop Djengis Khan gezeten zou hebben. Pethick had zo zijn twijfels. "In herkomstgeschiedenissen zijn de Chinezen nog niet zo sterk. Later bleek dat de troon nooit van hem kan zijn geweest."
Toch was het voor Pethick die ochtend duidelijk: in Djengis Khan zat een goede tentoonstelling. Een expositie die zou kunnen rondreizen langs de talloze nieuwe kunsthallen en musea die in China waren verrezen. Het zou de eerste tentoonstelling moeten zijn voor het eigen bedrijf dat hij ging oprichten en in Hongkong vestigde. Maar hij had pech. De Chinese regering verbood het organiseren van tentoonstellingen door buitenlandse bedrijven. "Ik vrees een wet speciaal voor mij gemaakt."
Met zijn Nomad Exhibitions moest hij bestemmingen buiten China vinden. Eerder in 2011 bracht hij al een expositie over het Ming Keizerrijk naar Europa, onder andere naar de Nieuwe Kerk in Amsterdam.
Vier weken voor de opening in Soesterberg staat hij nu met conservator Jeroen Punt en hoofd collectiebeheer Arco Seton van het Nationaal Militair in de kelders van het Binnen Mongolië Museum. In een hypermodern gebouw wordt de Mongoolse geschiedenis getoond. Van dinosauriërs en prehistorische fossielen tot Djengis Khan en andere middeleeuwse Mongoolse krijgsheren tot de astronauten die vanuit de autonome regio de ruimte in zijn geschoten.
In die kelders worden tweehonderd objecten ingepakt in kratten. Nog nooit leende het museum zoveel van zijn erfgoed uit. Nog nooit mochten deze schatten uit de tijd van Djengis Khan China verlaten. Pethick, Punt en Seton bekijken alle objecten om te zien of er beschadigingen op zitten. Groepjes Mongolen en Chinezen krioelen om hen heen. Zij zijn van het museum en van andere Mongoolse instituten die bruiklenen verschaffen. Veel objecten worden zo door drie fotografen vastgelegd, drie lijsten worden in Chinese karakters en in Nederlands schrift vastgelegd. Voor de verzekering.
Een gouden zadel passeert, een paardenleren eensnarige viool, een sjamanenpak en een zijden broek uit de dertiende eeuw die door de droge Mongoolse lucht nog niet verloren is gegaan. "Het gaat wel iets strikter dan normaal", zeggen Punt en Seton, "het is toch de eerste keer dat dit museum objecten aan het Westen uitleent en voor ons de eerste keer dat we bruiklenen uit China halen. Wat zij nu opschrijven? Geen idee, we kunnen geen Chinese karakters lezen."
Vader des vaderlands
Dat Djengis Khan weer mag uitgroeien tot een Mongoolse volksheld schuilt ook in de woorden van adjunct-directeur Fu Ning van het Binnen Mongolië Museum. "Zonder Djengis Khan was er niet één Mongolië geweest en was de geschiedenis van China misschien ook anders geweest", zegt hij. Waarom het museum nu voor het eerst heeft ingestemd met de bruiklenen? "Het is goed als in het Westen met een ander perspectief naar Djengis Khan wordt gekeken. Ja, hij heeft zich ook schuldig gemaakt aan wreedheden. Maar dat was bijna onvermijdelijk in die periode in de geschiedenis. Hij was niet de enige."
Volgens sommige schattingen zijn tijdens zijn veroveringstochten in China, Centraal-Azië, Iran en Rusland veertig miljoen mensen omgebracht bij het platbranden en uitmoorden van veroverde steden en dorpen. Er zijn ook wetenschappers die dat getal zwaar overdreven noemen. Zij benadrukken de andere kant van Djengis Khan: een groot strateeg, en niet alleen in zijn strijdmethoden.
Zo liet hij het eerste Mongoolse schrift ontwikkelen, om daardoor snel boodschappen te kunnen overbrengen naar zijn troepen honderden kilometers verderop. Hij vergrootte de handel tussen Oost en West via de Zijderoute. Hij haalde handwerkslieden en wetenschappers naar Mongolië en bracht het Westen in aanraking met Chinese uitvindingen. Hij stond vrijheid van religie toe in een imperium waarin boeddhisten, islamieten en christenen woonden.
Zo bereikte hij opvallend veel voor een man die op jonge leeftijd zijn vader verloor en wiens stam verdreven werd. Geboren als Temujin ging hij het gevecht aan, versloeg stammen en sloot coalities voordat hij als Djengis Khan met de door hem verenigde Mongolen aan veroveringstochten begon. Zijn zonen en kleinzonen breidden het rijk verder uit. Zo verenigde zijn kleinzoon Kublai Khan China en stichtte de Yuan Dynastie. Kublai Khan was de keizer bij wie Marco Polo aan het hof verbleef. Bij de Europese grenzen hielden Djengis Khan en later zijn zonen op, verder dan de Donau trokken ze niet. "Ze vonden Europa gewoon niet interessant", zegt Pethick.
Xi Jinping
In de tijd van Djengis Khan is niets over hem geschreven. Het belangrijkste werk is de Geheime Geschiedenis van de Mongolen, het eerste Mongoolse geschrift dat kort na zijn dood werd geschreven. Pethick is trots dat hij in Soesterberg pagina's uit dat manuscript kan tonen, afkomstig uit de universiteit van zijn woonplaats Edinburgh. Hij wist ook manuscripten te lenen van De Geschiedenis van de Wereld, van de Iraanse vizier Rashid al Din die enkele decennia na Djengis Khan het Mongoolse imperium beschreef. De geschriften van Marco Polo zijn aanwezig, net als van de Vlaamse franciscaner monnik Van Rubroek die eerder het hof van Kublai Khan bezocht. Alles wat sindsdien over Djengis Khan is geschreven, berust vooral op deze bronnen.
Bijna was Djengis Khan toch niet naar Soesterberg gekomen. In augustus arriveerde uit Beijing een missive van president Xi Jinping dat hij in 2017 vanwege het zeventigjarig bestaan naar de autonome regio Binnen-Mongolië zou komen en dus geen erfgoed het land mocht verlaten. Het museum had net een nieuwe directeur, die er geen baat bij had Beijing tegen te spreken. "Ik kreeg een hartverzakking", zegt Saam. "Ik ben direct in het vliegtuig gestapt", vertelt Pethick, "en heb me hier de blaren op de tong gepraat."
De tentoonstelling zal nog doorreizen, hoopt Pethick, als andere musea in Soesterberg zijn komen kijken en de expo ook kopen. Pas dan wordt het hele project voor hem lonend. En verovert Djengis Khan uiteindelijk toch een beetje Europa.
Genghis Khan, wereldveroveraar te paard
. 18 febr t/m 27 aug in het Nationaal Militair Museum in Soesterberg. Inl: www.nmm.nl