Thirty-eight ancient tombs and a rare half-naked figurine built in the Han Dynasty (202 BC - AD 220) were discovered recently in Guanghan, Sichuan province, Chengdu Commercial Daily reported on Friday.
The rear of a 60 cm-tall pottery figurines unearthed from the Han Dynasty (202 BC - AD 220) tombs in Guanghan city, China's Southwest Sichuan province, Oct 9, 2013. Archeologists said the plump figure lifting pants might be a musician figurine [Credit/CFP]
According to Liu Huashi, deputy director of the Sichuan provincial archaeology institute, the tombs have been excavated since June and were found over an area of more than 100,000 square meters. Although many of the tombs were robbed, archaeologists were able to unearth a number of rare relics from the tombs, including a figurine of a half-naked woman resembling the ancient Greek sculpture Venus de Milo.
Liu said that the tombs are believed to have belonged to local rich people and officials and that the relics unearthed from the tombs will provide historical information about the region.
Source: ChinaDaily [October 11, 2013]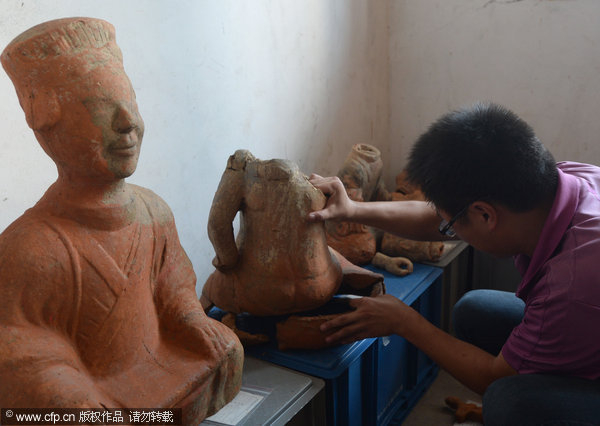 A staffer checks pottery figurines unearthed from the Han Dynasty (202 BC - AD 220) tombs in Guanghan city, China's Southwest Sichuan province, Oct 11, 2013. The tomb area covers 20 hectares and the 38 tombs hold generations of a family, something very rare in Sichuan province. [Photo/CFP]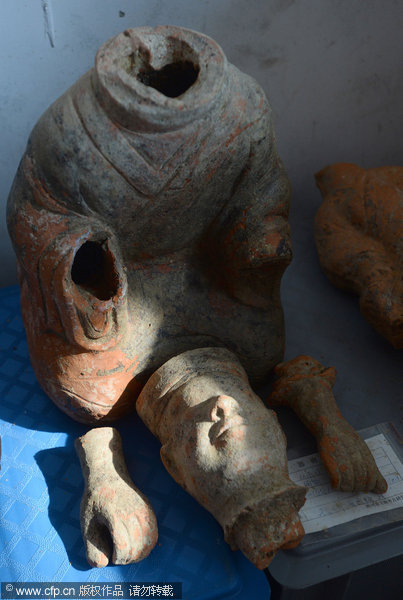 Pottery figurines unearthed from the Han Dynasty (202 BC - AD 220) tombs in Guanghan city, China's Southwest Sichuan province, Oct 11, 2013. The tomb area covers 20 hectares, and its 38 tombs hold generations of a family, something very rare in Sichuan province. [Photo/CFP]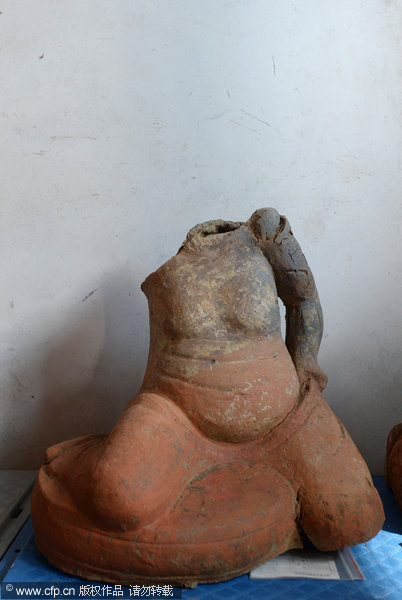 A 60 cm-tall pottery figurines unearthed from the Han Dynasty (202 BC - AD 220) tombs in Guanghan city, China's Southwest Sichuan province, Oct 11, 2013. Archeologists said this plump figure lifting pants might be a musician figurine.

[Photo/CFP]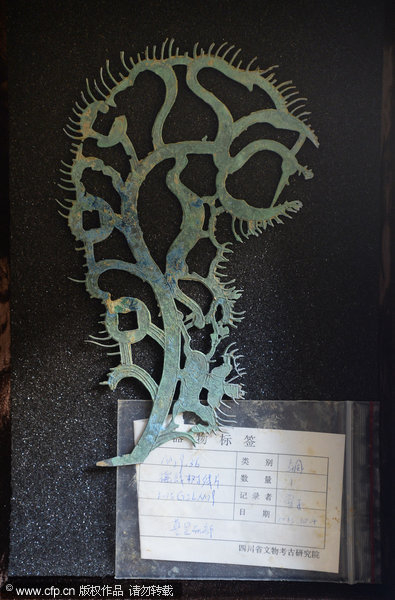 Relics of a bronze tree believed to be able to bring wealth unearthed from the Han Dynasty (202 BC - AD 220) family tombs in Guanghan city, China's Southwest Sichuan province, Oct 11, 2013.

[Photo/CFP]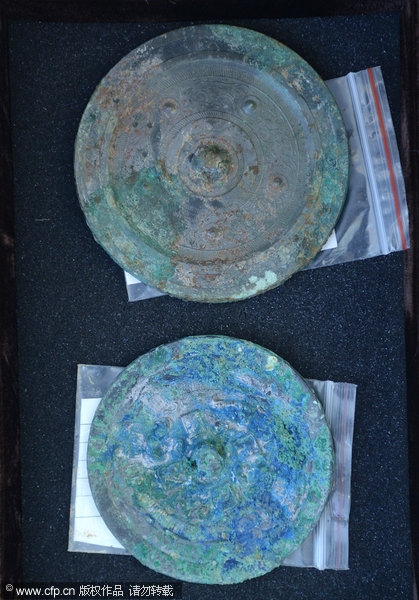 Bronze mirrors unearthed from the Han Dynasty (202 BC - AD 220) family tombs in Guanghan city, China's Southwest Sichuan province, Oct 11, 2013.

[Photo/CFP]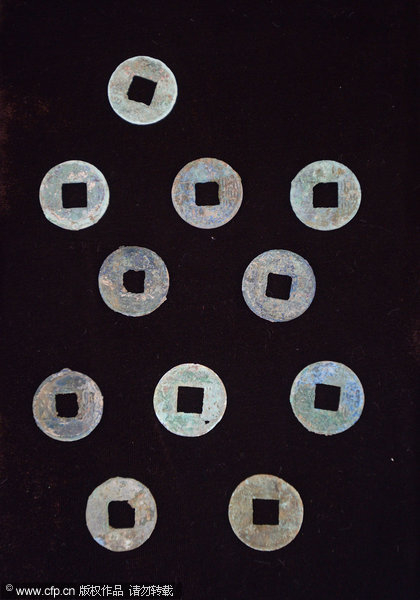 Bronze coins known as wuzhuqian unearthed from the Han Dynasty (202 BC - AD 220) family tombs in Guanghan city, China's Southwest Sichuan province, Oct 11, 2013.

[Photo/CFP]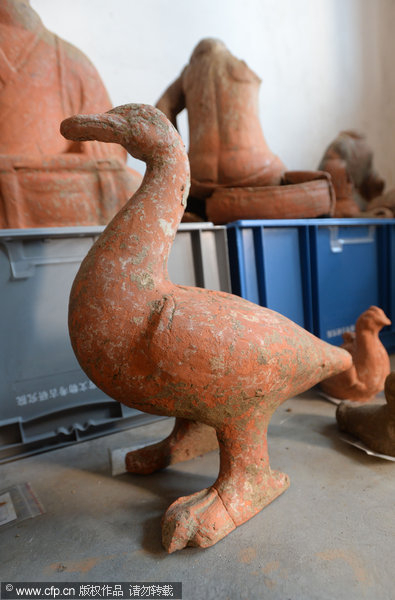 A full-sized duck pottery figurine unearthed from the Han Dynasty (202 BC - AD 220) tombs in Guanghan city, China's Southwest Sichuan province, Oct 11, 2013.

[Photo/CFP]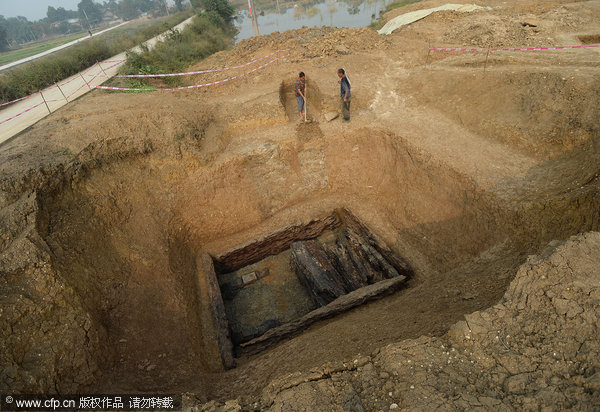 The excavation site of family tombs from the Han Dynasty (202 BC - AD 220) in Guanghan city, China's Southwest Sichuan province, Oct 9, 2013.

[Photo/CFP]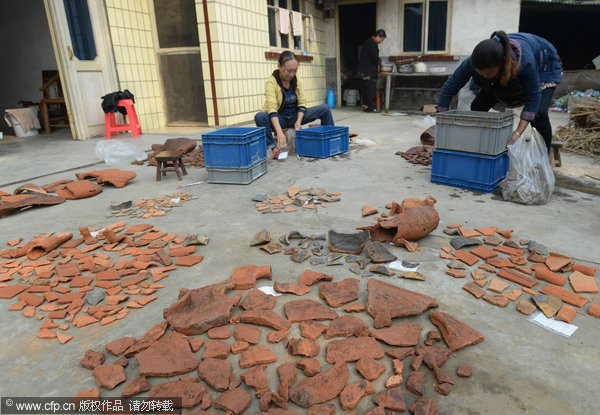 Excavators collect relics from Han Dynasty (202 BC - AD 220) family tombs in Guanghan city, China's Southwest Sichuan province, Oct 9, 2013.

[Photo/CFP]