Unscrolling the history of China's art
What do we really know about Chinese art? As a major V&A show celebrates 1,200 years of Chinese painting, Kate Kellaway travels east to encounter a parallel universe – and the contemporary artists reinterpreting the past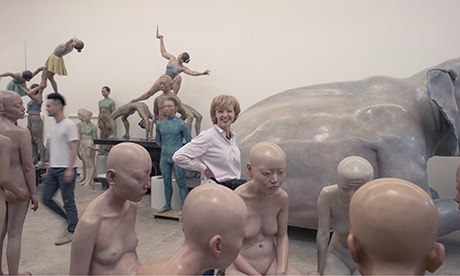 "It is a deep question, and I can only answer simplistically. The Cultural Revolution involved loss of memory, lack of physical connection, buildings pulled down, living in an alien environment. But it is possible to reconnect with tradition through materials we can feel and touch: scrolls, paper, silk. It is a direct way of activating memory. A psychological need. Communism as an ideology has gone, but we feel passionate about tradition."
Chinese painting turns out to be about brief encounters – as if each masterpiece were a celebrity making a short public appearance before being driven away in a car with darkened windows. Paintings may spend years in the dark for their own good. The idea of rotation is ancient and refreshing (in every sense). As early as the 13th century, painter Zhao Xigu advised that pictures be changed "every three to four days" so scrolls "will not suffer" and, as importantly: "You will never get tired of them."
It is one of our first great revelations about the way Chinese art diverges from western. But then, for centuries, Chinese and western art led separate lives. Until the Jesuits arrived in China in the 17th century there was no cross-pollination, no western artistic influence on China – or vice versa. Europe imported Chinese silk and porcelain, but no painting or calligraphy. The west was ignorant of Chinese art. And when the Jesuits first brought vanishing-point perspectives to the east, the Chinese made fun of them.
Hongxing prefers to dwell on similarities between artists from east and west but highlights material differences. In the west, artists worked on wood and canvas; in the east, on silk and paper – after all, a Chinese invention. He also points out the importance of the written language. The Chinese "never had a problem putting words into pictures conceptually – very different from the west". Also: western art related to science (think of Leonardo's theory of colour), while Chinese art was more influenced by the humanities and poetry.
Mark Jones explains that one of the reasons he was so keen to commission this show is that the west has been slow to recognise the freedom in Chinese painting, its "adventurous exploration of a whole gamut of possibilities that western art only tackled in the 20th century". It is a list that includes the ability to see paintings as "a process of making abstract marks on a flat surface, as symbolic representations and as a series of gestures". This last "came naturally to a culture which thought highly of calligraphy and used the same means – brush and ink – for both".
At the same time as recognising these freedoms, one cannot but be struck by the Chinese obsession with discipline and rank. Traditional painting is divided into three types: birds and flowers; figures; landscapes. Art was judged by three adjectives. The best work was "divine" (no examples survive). Second best was "untrammelled" (a wonderful word that critics should re-employ without delay) and the third "able". Presumably when paintings fell short of able, no words were wasted on them.
Yuanlu failed to appreciate the national significance of this hoard. He sold off treasures to Hungarian archaeologist Aurel Stein, French archaeologist Paul Pelliot, American explorer Langdon Warner and other opportunistic foreigners. We are shown a photograph of Wang Yuanlu, taken by Stein. Careful inspection reveals the anxiety underscoring his smile.
I find the "library" overwhelming and unexpectedly moving: the tranquil statue of the 9th-century monk seems to rise above time, strife and scroll-plundering foreigners. On the wall are his painted personal effects: a water bottle and a scalloped bag hanging over a branch. They are conveyed with sketchy haste as if to signify the transience of material possessions although, with all other treasures gone, here they remain.
After Dunhuang we travel to Shanghai – a city that moves so fast it keeps grinding to a standstill. In the conservation studio at Shanghai Museum I am struck by how often, in China, ancient and modern collide. Inside, the scene is slow and harmonious, yet on the other side of the glass the city's skyscrapers crowd round.
It is at Shanghai's Museum that we are shown a work whose "vital life" is not in question: a 15th-century gem, unseen for five years, coming to the V&A, of courtesans applying an almost scholarly attention to a football (inflated pig bladders were used as footballs in the Beijing court). A lady with an unfeasibly silky yellow foot is about to kick… It is a piece of improbable charm.
In Hangzhou in eastern China – our last stop – we visit the China Academy of Art, China's most influential arts university, where more than half the pupils are studying traditional Chinese art. When 22-year-old Li Jinrui is asked what calligraphy means to her, she describes calligraphy as if it were a religion that has changed her life. She was a restless child until calligraphy calmed her. Her boyfriend is a calligraphy convert, too. She adds that she is "very fond" of him. The boyfriend looks bashful and everyone smiles.
On our last morning, I get up early to walk round West Lake. It is 7.15am and it is to be one of the most magical walks of my life. The bridge and lakeside paths are already full of people greeting the day: fishing, feeding ducks, flying kites, doing tai chi – an ancient man manages an unbelievably supple and high leg stretch. There is gentle sunshine, a light breeze, water lilies and music everywhere – people with radios and, under a temple, an old man practising his saxophone (old men seem to be Hangzhou's chief recreationalists).
In the evening we return to the lake to catch a boat back. It is dark and warm. The skipper rows with a leaf-shaped oar; we hold bamboo fans; the lapping water is a lullaby. And I am, momentarily, assailed by the illusion that we are part of a Chinese painting: tiny dots afloat, figures in a landscape, on our way home.
Mao Song A Monkey
Ma Yuan Bare Willows and Distant Mountains (late 12th century)
Court Ladies Preparing Newly Woven Silk, Attributed to Emperor Huizong (1082-1135)Photograph: Museum of Fine Arts, Boston
Chen Rong Nine Dragons
Lu Ji Pomegranates, Autumn Mallows, Chrysanthemums, Blue Magpies and Rooster (last quarter 15th century)
Qiu Ying Saying Farewell at Hsun-yang
Ren Renfa Four Pleasures 3
Masterpieces of Chinese Paintings - in pictures
A look at some of the works featured in the V&A's show celebrating 1,200 years of exquisite Chinese painting
Masterpieces of Chinese Paintings: 700-1900

is at the V&A from 26 October 2013 to 19 January 2014.
V&A members have free admission