Once deemed 'decadent' evidence of its imperial past, China's cultural riches are now a national priority.
Our critic previews a historic exhibition at the British Museum next month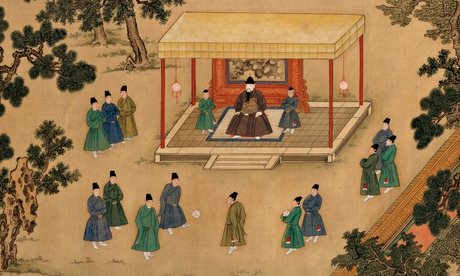 That particular journey was emblematic of the changes of the early Ming (literally "brilliant" or "shining") period. Having overthrown the Mongol dynasty of the Yuan, the new ethnic Chinese emperor sought to live up to his own adopted name Hongwu, meaning "vast military power". To this end he created a society that supported an army of one million troops and established the navy's dockyards in Nanjing as the largest in the world. Those dockyards are in the process of a multimillion-pound excavation, and one huge pot-bellied Ming ship – then the cutting edge of naval technology – has been reconstructed, but little of the original remains.
Hongwu sought to spread that power to the four corners of his vast nation state by establishing the most capable of his 36 sons in regional power bases. He armed them with a set of written dynastic instructions concerning responsibility and filial duty. Some adhered to these tenets better than others. Zhu Tan, Prince Huang of Lu died aged 19 from the overdose of a drug he believed to be an elixir of eternal life. His tomb, excavated in recent decades with exquisite items preserved in the (new) Shandong regional museum and loaned to the London exhibition, gives a flavour of the life he briefly enjoyed – his best imperial primrose silk coat was laid across his body; his favourite zither, already an antique from the Tang dynasty by the time he came to use its jade tuning mechanism, was buried beside him.
Neither did Hongwu's edicts survive his death. His chosen teenage heir, his nephew, the Jianwen emperor, was quickly overthrown by another son, Zhu Di, who became the Yongle (or "perpetual happiness") emperor in 1402. One of the seismic changes introduced by Zhu Di was to develop his own fiefdom, Yan, as a secondary capital and to rename it Beijing. Many thousand of artisans and slaves were press-ganged to work on the construction of the palace complex that became the Forbidden City. Zhu Di dispatched fleets of ships on voyages of discovery and trade and created a multicultural imperial court, with artists absorbing influences from wider Asia and the Middle East, to create work of enduring beauty.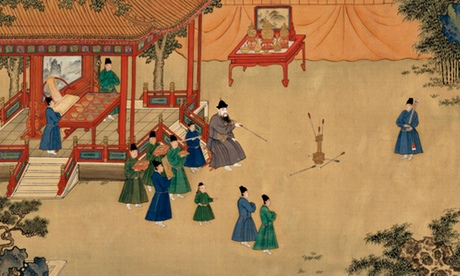 The ideal of the early Ming emperors was to be "complete in the arts of both peace and war" – until the sixth emperor failed disastrously in the latter and was captured by the Mongol armies in 1449 to bring a relatively harmonious era abruptly to a halt. Prior to that, in pursuit of "wen", the arts of peace, the emperors were all devotees of porcelain, and the new techniques introduced into the dozen imperial kilns produced ever more delicate pots and ever more brilliant glazes. It is a heart-in-mouth moment to watch curators blithely handling an imperial Ming vase (the trick, Harrison-Hall observed, before expertly manipulating a wonderful large blue-and-white wine jar decorated with ladies of the court at play, is just to hold it as you would any other object of similar heft – and never once give a thought to its priceless price tag).
The Yongle emperor, by necessity, and to propagandise his legitimacy, sought to spread his particular cultural revolution in different ways. When he appeared in public, a 2,000-strong choir sang and drums, cornets, cymbals and bells sounded (echoes of which we heard in the free-form harmonies of the 27th generation of imperial palace musicians, five of whom, trained in Ming notation, and playing authentic instruments, will travel to London to accompany the show).
In an effort to extend his influence still further, the emperor enlisted a comrade from his original march to power, the eunuch Zheng He, to make seven great voyages to the Middle East and East Africa, and to establish a "maritime silk route". Zheng He, a Muslim, was Marco Polo in reverse, taking the idea of China to the world in a fleet of treasure ships, some reputedly 140 metres long, and spreading the word of the great wealth and power of the Ming empire.
It is no surprise that Zheng He, virtually forgotten for centuries, has lately been reclaimed as a pioneering hero of an outward-looking and technologically advanced nation. The kinds of treasures he carried to foreign courts will once again be in transit this week, en route to the British Museum, generous loans from one gilded age of China's history that echo to the present.