Chinadaily.com.cn
27 march 2015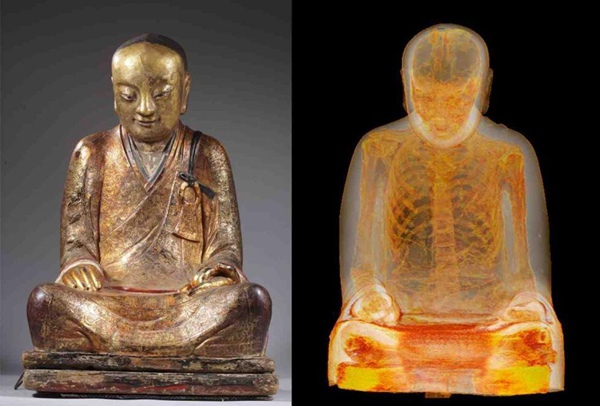 A CT scan shows a body, whose internal organs were removed, concealed in an ancient Chinese statueof a Buddha. [Photos provided by the Drents Museum]
The Dutch private collector who now owns the 1,000-year-old Buddha statue with amummified monk inside is willing to return the relic to China, if the statue is proven to bestolen from China, according to Amsterdam-based newspaper NRC Handelsblad.
According to the report, the current owner, who works as an architect in Amsterdam, purchased the statue for 40,000 guilders ($19,786) in 1995, the same year a Buddha statuewas reported stolen from China.
Jin Ruiguo, an official with the State Administration of Cultural Heritage (SACH), said in astatement that based on photos, local archives and witness statements, SACH can confirmthat this Buddha statue was stolen from a temple in Yangchun village in east China's Fujianprovince in 1995.
The collector said the statue is indeed similar to the one in photos of the Buddha stolen fromChina. However, the Chinese reports say the Buddha was stolen in October, 1995 by thelunar calendar (which corresponds to the period from end of November to mid December, 1995 by the solar calendar), but the collector can prove that the statue was already in theNetherlands in mid 1995, hence it is uncertain whether the two Buddha statues are the sameone.
The owner is willing to invest more, including in DNA testing technologies, to further verify theidentity of the Buddha. The SACH is also gathering more evidence and working with other depa
rt
ments to secure the statue's return, Jin said.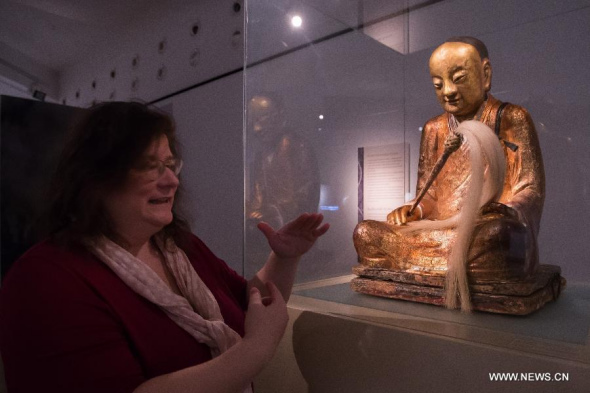 The statue attracted attention after a CT scan last year found it contained a mummy of a 12th century Buddhist monk. The monk sits on a pillow that is around 300 years older.
Chinese characters are written on the side of the pillow, which say the monk's name wasZhang Liuquan.
The Buddha statue was included in a "Mummy World" exhibition at the Hungarian NaturalHistory Museum, which opened in October last year. It was originally scheduled to be ondisplay until May 17.
The Hungarian Natural History Museum borrowed the statue from the Drents Museum inAssen, the Netherlands. On March 20, the Dutch owner withdrew the statue from theexhibition in order to "calmly and critically evaluate the unexpected situation," said astatement sent to Xinhua by the owner's spokesman.
According to Yangchun archives, a monk, living in the village in the Song Dynasty (960-1279), helped cure people with his knowledge of Chinese herbal medicine. When he died, his bodywas mummified and local people made a statue to hold his body.
The statue was worshipped as an icon.
The collector was once offered 10 million euro for the statue, but declined to sell it despite theimpressive sum. If the statue is indeed the one stolen from China, the collector is willing toreturn the statue, but wishes that it would return to the village where it was originallyworshipped, ins
tea
d of to showcases at museums.