"The Colors of Dunhuang: A
Magic Gateway to the Silk Road" exhibition held in Mimar Sinan University in Istanbul of
Turkey.
Source: CCTV
Watch Video
Play Video
Chinese cultural relics are wowing art lovers in Istanbul. 2012 is the "China Culture Year" in Turkey. An exhibition is featuring treasures from the ancient Chinese city of Dunhuang, a major trade hub on the Silk Road linking the two countries.
Traveling back in time, the ancient dancing of Dunhuang comes alive and the music is played on instruments unique to the region.
Chinese Vice Culture Minister Li Xiaojie (C, front) and Turkish Culture and Tourism Minister
Ertugrul Gunay (R, front) watch the treasures at the "Treasures of Ancient China" Exhibition
held at Topkapi Palace Museum in Istanbul of Turkey, on Nov. 20, 2012. The Exhibition kicked
off here on Tuesday. (Xinhua/Ma Yan)
The exhibits are mainly from the famous caves near the city of Dunhuang. The name means "blazing beacon". The area was the focal point of trade and cultural exchanges. The art of Dunhuang is a fine example of a harmonious blend of Chinese, Buddhist and even Western influence.
This the largest ever showcase of the ancient, priceless works noted for their distinctive Buddhist elements.
Chinese vice minister of culture Li Xiaojie said, "We believe the event will bring the China culture year in Turkey to its climax."
The event will also feature a forum to discuss the unique beauty of Dunhuang art. China's leading experts in the field are expected to attend.
The ancient "blazing beacon" is still drawing all to witness the splendor of Chinese culture today.
A visitor takes photos of the treasures at the "Treasures of Ancient China" Exhibition held at
Topkapi Palace Museum in Istanbul of Turkey, on Nov. 20, 2012. (Xinhua/Ma Yan)
Visitors watch the treasures at the "Treasures of Ancient China" Exhibition held at Topkapi
Palace Museum in Istanbul of Turkey, on Nov. 20, 2012.(Xinhua/Ma Yan)
A visitor watches the treasures at the "Treasures of Ancient China" Exhibition held at Topkapi
Palace Museum in Istanbul of Turkey, on Nov. 20, 2012. (Xinhua/Ma Yan)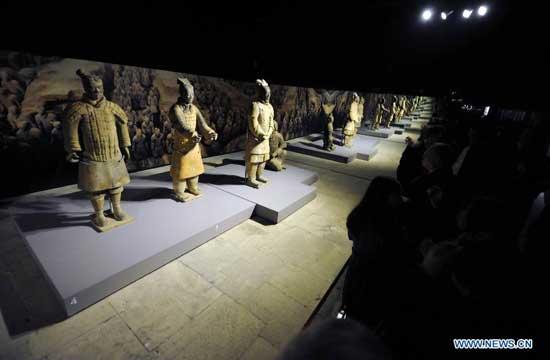 Visitors watch the treasures at the "Treasures of Ancient China" Exhibition held at Topkapi
Palace Museum in Istanbul of Turkey, on Nov. 20, 2012. The Exhibition kicked off here on
Tuesday. (Xinhua/Ma Yan)
Related stories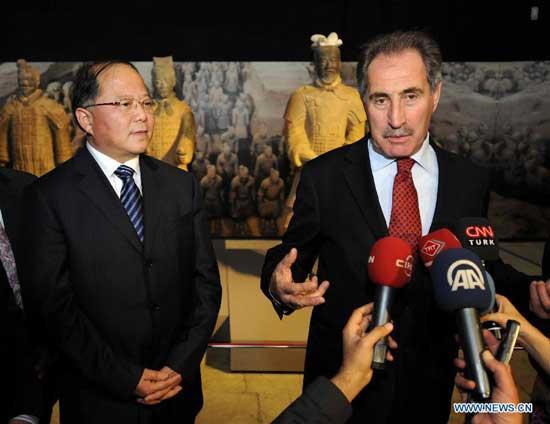 Chinese Vice Culture Minister Li Xiaojie (L) looks on as Turkish Culture and Tourism Minister
Ertugrul Gunay speaks to media during the opening ceremony of the "Treasures of Ancient China"
Exhibition held at Topkapi Palace Museum in Istanbul of Turkey, on Nov. 20, 2012.(Xinhua/Ma
Yan)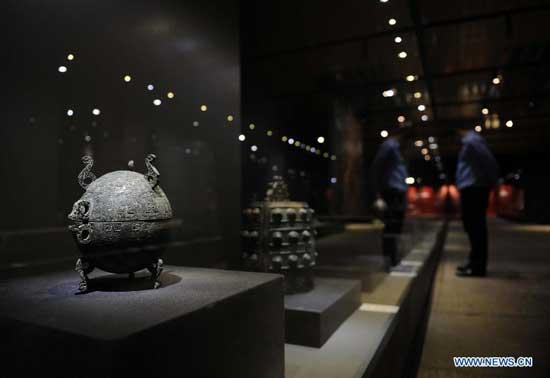 Visitors watch the treasures at the "Treasures of Ancient China" Exhibition held at Topkapi
Palace Museum in Istanbul of Turkey, on Nov. 20, 2012. The Exhibition kicked off here on
Tuesday. (Xinhua/Ma Yan)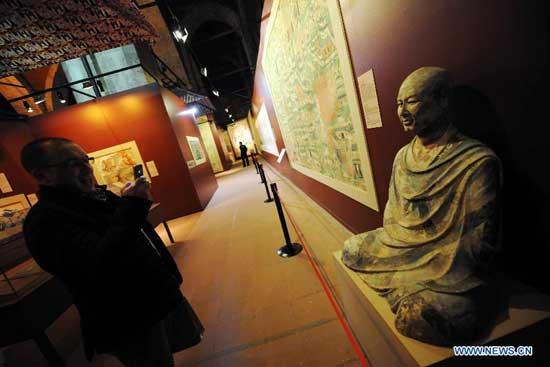 A visitor watches the duplicate of a statue at "The Colors of Dunhuang: A Magic Gateway to the
Silk Road" exhibition held in Mimar Sinan University in Istanbul of Turkey, on Nov. 20, 2012.
The Exhibition kicked off here on Tuesday. (Xinhua/Ma Yan)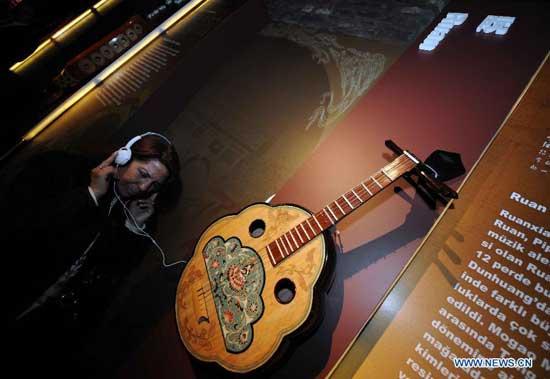 A visitor listens to the music of the instrument Ruan at "The Colors of Dunhuang: A Magic
Gateway to the Silk Road" exhibition held in Mimar Sinan University in Istanbul of Turkey, on
Nov. 20, 2012. The Exhibition kicked off here on Tuesday. (Xinhua/Ma Yan)
Artists perform at "The Colors of Dunhuang: A Magic Gateway to the Silk Road" exhibition held
in Mimar Sinan University in Istanbul of Turkey, on Nov. 20, 2012. The Exhibition kicked off
here on Tuesday. (Xinhua/Ma Yan)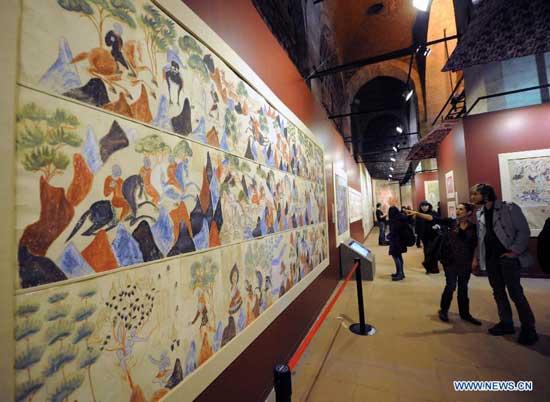 Visitors watch the duplicate of ancient mural paintings at "The Colors of Dunhuang: A Magic
Gateway to the Silk Road" exhibition held in Mimar Sinan University in Istanbul of Turkey, on
Nov. 20, 2012. The Exhibition kicked off here on Tuesday. (Xinhua/Ma Yan)
Photo taken on Nov. 20, 2012 shows the duplicate of statues at "The Colors of Dunhuang: A
Magic Gateway to the Silk Road" exhibition held in Mimar Sinan University in Istanbul of
Turkey. (Xinhua/Ma Yan)
A visitor poses for photos in front of the duplicate of a Buddha statue at "The Colors of
Dunhuang: A Magic Gateway to the Silk Road" exhibition held in Mimar Sinan University in
Istanbul of Turkey, on Nov. 20, 2012. (Xinhua/Ma Yan)
Photo taken on Nov. 20, 2012 shows the duplicate of an ancient cave at "The Colors of
Dunhuang: A Magic Gateway to the Silk Road" exhibition held in Mimar Sinan University in
Istanbul of Turkey. The Exhibition kicked off here on Tuesday. (Xinhua/Ma Yan)
Visitors watch the duplicate of a statue at the"The Colors of Dunhuang: A Magic Gateway to the
Silk Road" exhibition held in Mimar Sinan University in Istanbul of Turkey, on Nov. 20, 2012.
(Xinhua/Ma Yan)
Visitors take photos in front of the duplicate of an ancient cave at "The Colors of Dunhuang:
A Magic Gateway to the Silk Road" held in Mimar Sinan University in Istanbul of Turkey, on
Nov. 20, 2012. The Exhibition kicked off here on Tuesday. (Xinhua/Ma Yan)