Watch Video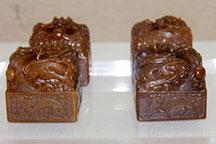 Play Video
If you're desperate to go to a particular museum but don't want to travel a long way to visit it, then listen up. More and more museums are extending their out-reach programmes by loaning relics to other institutions, or even displaying them in vehicles. On the Chinese mainland, there are two such exhibitions currently happening, enabling items from one museum to be shared by many more.
A press conference was held to welcome some precious items from private collections in Taiwan as they embark on their journey to their temporary home, at the Jiangxi Provincial Museum.
Ninety six artifacts mainly made of jade and precious stones have been transported across the Strait, and began their one month tour here in Nanchang, the capital of Jiangxi Province. The items have come from eight collectors in Taiwan. The exquisitely made artifacts range in design from ancient carriages, plants, palace lamps, and Buddhist characters. Each piece reflects both originality and individuality, encapsulating how history and society have evolved.
Ye Rong, Deputy Director, Jiangxi Provincial Museum, said, "It's really worth visiting because the pieces are made out of some of the most precious types of jade produced in China. Secondly, the jade is all top quality, and third the skill of making these artifacts is very masterful."
This is the third exhibition at Jiangxi's Provincial Museum that has come from Taiwan. So it's also an effort to promote inter-Strait exchanges.
Sichuan Museum houses exhibition in a caravan
And Sichuan Museum aims is also acting as a movable museum, by putting an exhibition into a caravan that has toured over 50 places around the province. Now the caravan has arrived on the streets of Zigong, in the south of Sichuan.
Visitors, despite the rain, come in streams to board the caravan where they can catch a glimpse of replicas of six bronzeware pieces that are first class relics of the museum and can be traced back three thousand years.
Bronze mirrors from the Song dynasty tell people how people saw their reflections one thousand years ago. Because Zigong is near the hometown of painting master Zhang Daqian, replicas of his works are also displayed here. Narrators are on hand to tell the stories behind the relics, making each historical piece accessible to visitors.
"I like to visit local museums. So this moveable museum is really a bonus." Visitor said.
Limited space doesn't mean simple technology. Videos of some relics that couldn't make the trip are showed through "floating image" technology. Amazingly, the caravan has so far travelled 110-thousand kilometres and reached over 1 million people. So, if you don't go to museums, they will come to you.